President Donald Trump announced to reporters at the White Home that the Islamic State in Syria would be "passed tonight."
Thinking About
ISIS?
Include ISIS as an interest to keep up to date on the current ISIS news, video, and analysis from ABC News.
He made the statement with some fanfare, unfurling a big piece of paper that he had actually brought out with him to Marine One. He then assisted the press through 2 maps of Syria and Iraq showing the development of the Islamic State's defeat.
"I brought this out for you– this is a map of everything in the red, this was on election night, in 2016, whatever red is ISIS. When I took it over it was a mess now on the bottom it's the specific very same. There is no red," Trump stated, pointing his finger at the different parts of the map.
"In reality there is a small spot which will be passed tonight," Trump stated.
ISIS Caliphate two years back in red vs. ISIS Caliphate TODAY. (Was even worse in November 2016 prior to I took workplace). pic.twitter.com/MUgfex4rCj

— Donald J. Trump (@realDonaldTrump) March 20, 2019
It was the 3rd time in recent months that the president revealed success– or near success– over the Islamic State. In February, the president said ISIS would be 100 percent beat "extremely quickly," and in December he declared "we have won against ISIS." Presently, just a small holdout of ISIS area remains in eastern Syria, but there are no indicators the Syrian Democratic Forces prepare to state the area is freed of the terrorist group.
Trump appeared excited to share the news with reporters gathered on the South Lawn to pepper the president with concerns prior to he left to visit a factory in Lima, Ohio. The president emerged from the Oval Office and had actually previously gotten his intelligence briefing.
"This just came out 20 minutes ago," Trump stated of the map.
The timing raised concerns about whether the president– who is known to value colored maps and charts in his intelligence briefings– took the map to journalists soon after a classified meeting with leading authorities. The White Home did not directly react to a concern about the origins of the map.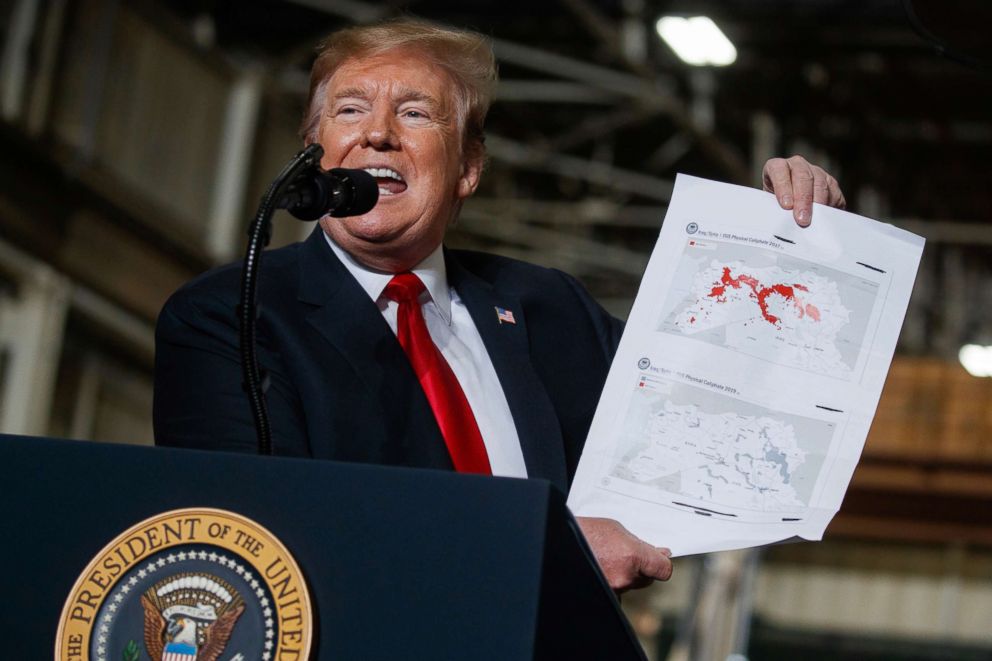 ( MORE: 5 ISIS fighters captured for alleged role in Syria blast that killed 4 Americans)
"The map highlighted the fact that over the last two years, under President Trump's management, the United States and our Coalition partners have liberated more than 20,000 square miles of territory formerly held by ISIS in Syria," a White Home spokesperson said.
Later in Ohio, the president was once again eager to share his colored map with an audience.
"Where is that chart? They provided me economic patterns and not the ISIS chart. Raise, if anybody has it," Trump stated, calling out for an assistant to deliver him the maps.
"Here is the story," Trump began. "I do not want to have them make a huge chart. Expenses excessive and I am a company person. I asked just how much it costs to make a huge chart. Like it matters however it matters to me, does that make sense? Two maps identical. Other than the one on top was Syria. See that? The one on top was Syria in November of 2016," Trump stated. "This is all ISIS. On the bottom, today, the caliphate is gone as of tonight. Pretty excellent. That is pretty great, best?"
In December, the president revealed unexpectedly that he planned to withdraw all staying U.S. forces from Syria. The decision captured the U.S. armed force off guard and even triggered the resignation of then-Secretary of Defense James Mattis. Considering that then, 400 American fighters stay in various parts of the region.
The Associated Press reported on Tuesday that U.S.-backed Syrian fighters had taken control of an encampment held by ISIS, a signal that requires were closing in.
ABC News' Elizabeth McLaughlin contributed to this report from the Pentagon.