The Job Creators Network took another blistering shot at Democratic Rep. (D-NY) Alexandria Ocasio-Cortez with 2 more billboards in the heart of Times Square, tearing into her"dreadful idea" the Green New Deal.
" The first signboard reads, 'Hey AOC, the Green New Offer Stinks.' The second signboard is just listed below the first and mocks Ocasio-Cortez's claim that 'farting cows' are a significant issue adding to worldwide warming as pointed out in part of her 'Green New Deal,'" the Task Creators Network stated in a press statement. "It also explains that the proposition isestimated to cost anywhere from $51 to $93 trillion dollars. Viewers are directed to the website TheGreenRawDeal.com to learn more information."
" If this Green Raw Deal is enacted, you can kiss the American dream farewell. It will require a nauseating quantity of loan to satisfy the guarantees and the enormous well-being boosts required by this so-called deal," stated Alfredo Ortiz, JCN President and CEO. "Small company owners succeed in America due to our country's dedication to free-market policies. The socialist policies in Ocasio-Cortez's plan have no place in America."
It's simply the most current in a series of signboards the pro-small enterprise has set up over the last month in downtown New york city City.
Recently, The Task Creators Network blasted Alexandria Ocasio-Cortez after she called the group's first billboard "wack."
" Hey AOC, Saw your wack tweet," the 7th Opportunity billboard said.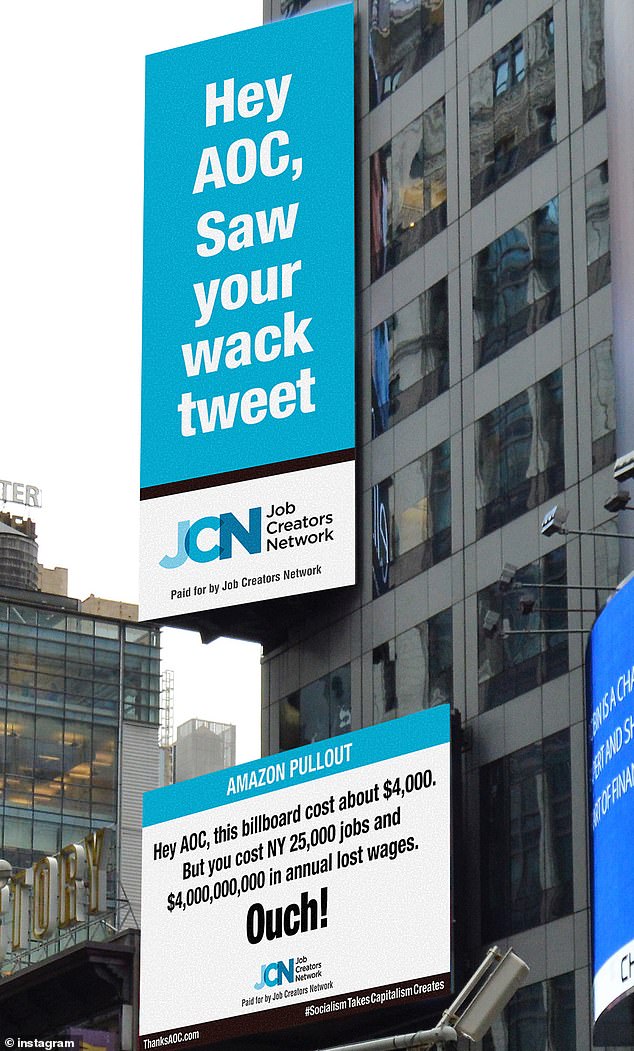 " These signboards are the follow up to a series of billboards that slammed AOC's role in pushing Amazon, and their 25,000 jobs, out of New york city," Job Creators Network described.
Check out ThanksAOC.com for more information, the JCN news release states.
Follow Jerome Hudson on Twitter @jeromeehudson