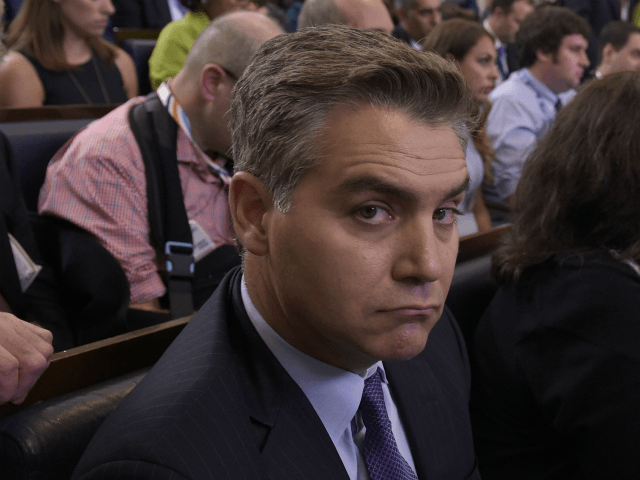 CNN White House correspondent Jim Acosta declared Thursday that President Donald Trump referring to the media as the "opponent of individuals" could assist produce an environment where journalists are killed.
Speaking prior to the Oxford Union Society in the United Kingdom, Acosta made numerous efforts at justifying his confrontational style when it pertains to covering the Trump administration, which has not just amassed strong rebukes from the president, however even a few of his own facility media colleagues. In his remarks, Acosta slammed President Trump for identifying wire service which have a partisan bend versus him as "phony news" or the "opponent of individuals."
Hey There Oxford! pic.twitter.com/99 wINxtQbl

— Jim Acosta (@Acosta) January 31, 2019
" Possibly they will not stop calling us the opponent of the individuals because it works so well with their people, but all of this amounts to one painful reality: this is an unsafe time to inform the truth in America," the CNN press reporter told trainees, adding that proponents of such rhetoric create "an environment where individuals can get hurt, where reporters can get killed."
His remarks were initially reported by the British newspaper theGuardian UK
Acosta is in the midst of penning a book on his purported" frightening" experiences covering the administration entitled,The Opponent of individuals: A Dangerous Time to Tell the Fact in America.
The forthcoming book, slated for release June 11, will information "never-before-revealed stories of this White House's rejection of reality, while laying out the stakes for how Trump's hostility toward facts positions an unprecedented risk to our democracy," according to the Associated Press.
In an interview with fellow CNN reporter Brian Stelter, Acosta said of the job: "Just put, I am composing this book to share what I have actually experienced covering President Trump throughout his first two years in office. This sobering, overwelming, and in some cases frightening experience has made it absolutely clear that this is a harmful time to inform the truth in America."
" The president and his team, not to discuss some of his fans, have actually tried to silence the press in methods we have never seen before," he continued. "As almost everyone has actually seen, I have actually witnessed this very first hand. As difficult as that difficulty might be for the free press in America, we need to continue to do our tasks and report the news. The fact is worth the fight."
Acosta made national headings after he was disallowed from the White Home over a heated back and forth with President Trump during an interview the day after the 2018 midterm election. In action, the network took legal action, which led to a federal judge renewing the reporter's press qualifications. The White Home implicated Acosta of stopping working to comply with "standard requirements" in his exchange with the president.